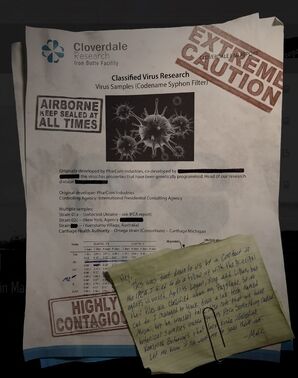 Classified Virus Research
is a tourism collectible in
Days Gone
.
Description
A Cloverdale memo concerning the evolution of viral samples from a classified agency, found in Iron Butte.
Transcript
VIRUS SAMPLES (Codename: Syphon Filter)
Abstract
Originally developed by PharCom Industries, co-developed by (REDACTED) the virus has properties that have been genetically programmed. Head of our research division (REDACTED).
Original developer: PharCom Industries
Controlling Agency: International Presidential Consulting Agency
Multiple samples:
Strain O1a — (collected Ukraine — see IPCA report)
Strain O2a — (New York, Agency (REDACTED)
Strain (redacted) — (Yuendumu Village, Australia)
Carthage Health Authority — Omega strain (Consortium) — Carthage Michigan
"Hey, this was sent down to us by a contact in the IPCA. I tried to do follow up with the principal agents involved. Agents Logan, Xing, and Lipan, but their files are classified above my paygrade, so no can do. I managed to track down a lab tech named Mujari, but he wouldn't talk. Also note that we have botanical samples outta Iquitos Peru, something called KemSynth Botanicals that look kinda interesting. Let me know if you want me to send them over. Marc."
Trivia
Classified Virus Research is a reference to the Syphon Filter series developed by SIE Bend Studio.
Community content is available under
CC-BY-SA
unless otherwise noted.