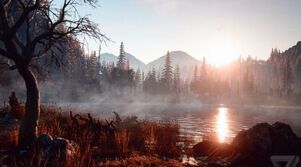 Oregon is a state in the Pacific Northwestern reigion of the United States of America. It is bordered by California and Nevada to the South, Idaho to the East, Washington to the North, and the Pacific Ocean to the West.
Days Gone is set entirely within this area.
Overview
Terrain
Oregon has an incredibly varied landscape, having forests, deserts, marshlands, mountains and metropolitan areas.
Flora & Fauna
Oregon is the home to some of the rarest genera of flowers on the planet. These plants would be used in the manufacture of the Freaker Virus.
has a multiple predatory species, such as bears, cougars and wolves (which prior to the Freaker outbreak, were considered extinct in Oregon.)
Wild deer are also common.
Weather
Oregon has a varied climate, having very hot dry summers and cold winters. Rain is frequent.
Locations
Portland (Mentioned only)
Farewell (cutscenes only)
Cascade
Bellknapp
Lost Lake

Sherman's Camp
Rogue Camp

Iron Butte
Mt. Thielsen
Diamond Lake
Crater Lake
More TBA
Community content is available under
CC-BY-SA
unless otherwise noted.