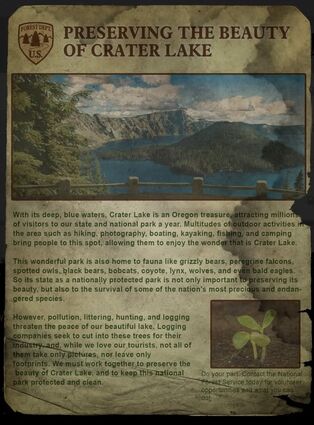 Description
An informational flyer about the preservation of Crater Lake, found at the Crater Lake Visitor's Center.
Transcript
PRESERVING THE BEAUTY OF CRATER LAKE
With its deep, blue waters, Crater Lake is an Oregon treasure, attracting millions of visitors to our state and national park a year. Multitudes of outdoor activities in the area such as hiking, photography, boating, kayaking, fishing, and camping bring people to this spot, allowing them to enjoy the wonder that is Crater Lake.
This wonderful park is also home to fauna like grizzly bears, peregrine falcons, spotted owls, black bears, bobcats, coyote, lynx, wolves, and even bald eagles. So its state as a nationally protected park is not only important to preserving its beauty, but also to the survival of some of the nation's most precious and endangered species.
However, pollution, littering, hunting, and logging threaten the peace of our beautiful lake. Logging companies seek to cut into these tress for their industry and, while we love our tourists, not all of them take only pictures, nor leave only footprints. We must work together to preserve the beauty of Crater Lake, and to keep this national park protected and clean.
Do your part. Contact the National Forest Department today for volunteer opportunities and what you can do!
Community content is available under
CC-BY-SA
unless otherwise noted.