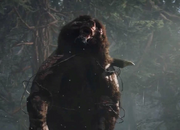 Rager Bears
are bears that have been infected with the Freaker Virus. 
They are massive threatening creatures that are more than capable of withstanding a lot of ballistic and blunt trauma, evidenced by one having barbed wire and an axe lodged into it with no ill effects. 
They have very accute senses of hearing.