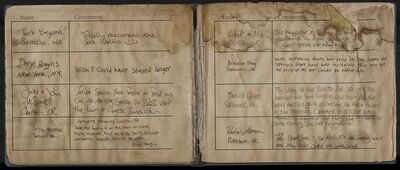 The
Salome Hot Springs Guestbook
is a tourism collectible in
Days Gone
.
Description
A guest log book found at the Salome Hot Springs in Belknap.
Transcript
Turk Bryant. Seattle, WA. Beautiful. Totally recommend the salt baths. :)
Deryl Higgins. New York, NY. Wish I could've stayed longer.
Janet and John McDowell. Chemult, OR. Terrible service. Took forever to find my car, no morning service. Do NOT eat the ham & cheese sandwich.
Greg Mcintyre. Farewell, OR. Amazing, amazing hospitality. Took my family in at the last minute. Trying to escape that weird flu going around. Wonderful daycare service as well. Five days. :)
Brooklyn Bing. Farewell, OR. With everything that's going on, the Salome Hot Springs staff have been incredible. They even let me bring up my dog! Couldn't be happier here.
Monica Green. Farewell, OR. My stay at the Salome Hot Springs has been terrible. Food running low from all the weird bullshit going on outside, no fresh towels in the morning. I booked this place six months in advance and they gave my room to some family! Do not recommend.
Rachel Lemon. Ripplebrook, OR. The staff here is so kind. I'm not feeling well and they even called an ambulance.
Community content is available under
CC-BY-SA
unless otherwise noted.