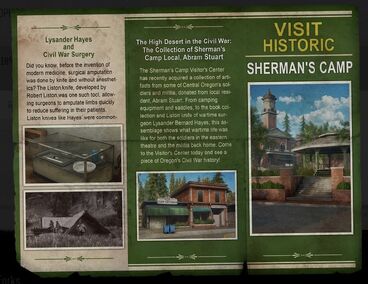 Description
An informational brochure about Sherman's Camp, given to you by Addy in Lost Lake.
Transcript
VISIT HISTORIC SHERMAN'S CAMP
The High Desert in the Civil War: The Collection of Sherman's Camp Local, Abram Stuart.
The Sherman's Camp Visitor's Center has recently acquired a collection of artifacts from some of Central Oregon's soldiers and militia, donated from local resident, Abram Stuart. From camping equipment and saddles, to the book collection and Liston knife of wartime surgeon Lysander Bernard Hayes, this assemblage shows what wartime life was like for both the soldiers in the eastern theatre and the militia back home. Come to the Visitor's Center today and see a piece of Oregon's Civil War history!
Lysander Hayes and Civil War Surgery
Did you know, before the invention of modern medicine, surgical amputation was done by knige and without anesthetics? The Liston knife, developed by Robert Liston, was one such tool, allowing surgeons to amputate limbs quickly to reduce suffering in their patients. Liston knives like Hayes' were commonly used by Civil War surgeons.
Fishing on Jones Creek
Sherman's Camp is surrounded by two beautiful creeks — Jones Creek and Spring Creek. Both are well-stocked with fish during the spring and summer seasons. Bring your fishing pole and tackle, and enjoy the clear mountain air for the perfect day trip! (See the Visitor's Center for 1-Day Angling Passes, rates may vary.)
Dining on Jones Creek
With creek-side dining and home-style cooking, Sherman's Camp boasts several amazing restaurants and eateries. Enjoy outdoor seating with a beautiful view of Jones Creek and the surrounding meadows and mountains. What could be more beautiful?
Local Craft Beer
With hops so easy to grow in the High Desert climate, microbreweries and craft beers are our specialty. Visit the Sherman's Camp General Store or any of the local restaurants to try selections of some of Central Oregon's local breweries.
Community content is available under
CC-BY-SA
unless otherwise noted.