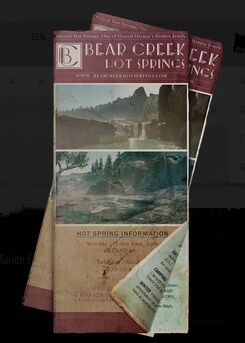 Description
A brochure found at the Bear Creek Hotsprings in Belknap.
Transcript
THE BENEFITS OF HOT SPRINGS
Natural hot springs have long been held as therapeutic and healing by many cultures. According to folklore, just soak in a hot spring can increase circulation, blood flow, and metabolism. While these, among many other purported healing properties, are widely debated, one thing is absolutely clear — natural hot springs are great for you!
From the salty, healing waters of the Dead Sea to the famous Japanese hot springs, water's healing properties cannot be debated. But the benefits of natural hot springs are incalculable. Anyone who's exercised for a long period of time can tell you how relaxing a hot soak is, but with the natural minerals of the earth added into the mix, achy joints and pain begone. The buoyancy of water combined with hot temperatures can work wonders on the body, especially after a long day. And with the natural addition of sodium, calcium, and chloride to our pools, you'll leave with your skin feeling more youthful than ever.
So please, join us for a soak at the Bear Creek Hot Springs, and wash your troubles away.
Community content is available under
CC-BY-SA
unless otherwise noted.